When it comes to alcohol, nothing spells better than an ice-cold beer. The world of beer is limitless and it is probably the oldest alcoholic beverage to be consumed. It does not just taste amazing but it also has numerous health benefits. People likely have a tendency to consume beer as they find it a refreshing drink that comfortably goes with any age group. Beer is a favourite drink for all and is loved by the nation.
Our nation prides itself on being one of the largest beer consumers in the entire world. No occasion is complete without a chilled beer and a game of Beer Pong, be it an easy house party or a cocktail night. In fact, it is one of those drinks that keep on coming to the table again and again.
Gone are the days when bartenders used to serve 1 or 2 glasses of beer on tap. Now, everyone has their refrigerators full of exotic beers from all around the world. But what if you are on a budget and don't have enough cash? Don't worry!
We have curated a list of the 23 best beer brands in India under ₹200 which won't burn a hole in your pocket.
1. Kingfisher
Kingfisher isn't just a beer, it's a religion in itself. One of the finest and best beer brands in India, Kingfisher is the most recognized and extensively available brand that unites beer lovers across the country. This is the one true national player, that regardless of the difficult situation, remains the 'King of Good Times'. Exceptional flavour, good price, and great distribution are what makes Kingfisher the most trustable and broadly consumed beer in India. Kingfisher was released in India in 1978 and since then it has acquired a massive market share.
Price:
Kingfisher Blue Super Premium Beer: INR 100 - 650 ml
Kingfisher Premium Lager Beer: INR 100 - 650 ml
2. Budweiser
Budweiser is one of the most popular beer brands available in our country. This legendary American beer has inspired so many beer brands to come into existence. Known for its fresh and light taste, today Budweiser has become synonymous with 'beer'. The primary reason to drink this beer is to switch you back to those good vintage days as this will certainly make you happy and help you to rejoice in your reminiscences. Savour your bud with a well-done burger and fries combo.
Price:
Budweiser Premium King Of Beers: INR 170 - 650 ml
Budweiser Magnum Strong Beer: INR 130 - 330 ml
3. Carlsberg
The tagline of Carlsberg 'Probably The Best in The World' is ironic because it's far away from the best even in countries that don't produce much beer themselves. Even though it's a notably huge brand, it's still not available at a number of places. Talking about the taste and flavour, this spiffy beer has grainy bittersweet notes and offers a pretty clean drinking experience. This is the kind of beer you want to sip on by the poolside, and delicately pair a light salad or even a fruit platter with it.
Price:
Carlsberg Elephant Classic Strong Super Premium Beer: INR 140 - 650 ml
Carlsberg Smooth Premium Lager Beer: INR 145 - 650 ml
4. Foster's
Foster's is mild-coloured Australian lager is a full-bodied drink with a rather malty flavour, and it pairs nicely with classic sports night food. In the brewing process, hops are added at a later stage to preserve freshness. This gives Foster's the crisp and robust taste and is available only in two variants. This is definitely one of those to go for when on a budget.
Price:
Foster's Lager Beer: INR 100 - 650 ml
Foster's Strong Beer: INR 120 - 650 ml
5. Haywards
One of the best-selling beer brands in India, Haywards is most recognized for its iconic Haywards 5000, a brew that is one hell of a strong lager and contains 7% alcohol. This lager has made its remarkable presence for its vintage advertising and economical pricing. The company was founded by Britisher Sir Anthony Hayward and the sale started in 1983.
Price:
Haywards 5000 Super Strong Beer: INR 100 - 650 ml
6. Tuborg
Tuborg is a Danish brewing company that was started in 1873 by Carl Frederik Tietgen. The brewery was set up in Hellerup which is a part of northern Copenhagen, Denmark. It is one of the finest beers and is loved by people because of the combination of fine taste and economical rate. Conveniently available everywhere, this Danish brand has probably unlocked the distribution secret in India like no other. This medium rich and lively drink has a moderate bitterness in the aftertaste and tastes exceptional when gulped down with light meals.
Price:
Tuborg Strong Premium Beer: INR 100 - 650 ml
Tuborg Classic Black Premium Strong Beer: INR 120 - 650 ml
7. Heineken
Acknowledged for its signature green bottle and the red star, this pale lager is available unanimously across shops and pubs leading it to one of the most pocket-friendly, popular and best beer brands in India. Heineken, an iconic Dutch pale lager is almost a perfect combination of flavour and the price which is cherished for its relatively strong punch and a full-bodied taste.
Price:
Heineken Lager Beer: INR 150 - 330 ml
8. Godfather
Godfather is the flagship beer brand of Devans Modern Breweries Limited, a brewing company that commenced operations in Jammu in 1961. What's unique about this beer is its long-brewing cycle, which lasts for 25 days, as opposed to the usual 12-15 days. This gives it a fresher taste. To our amazement, this 'Father of God' is unanimously gifted across all the hill stations we tread to in India, perhaps because it's a strong brew.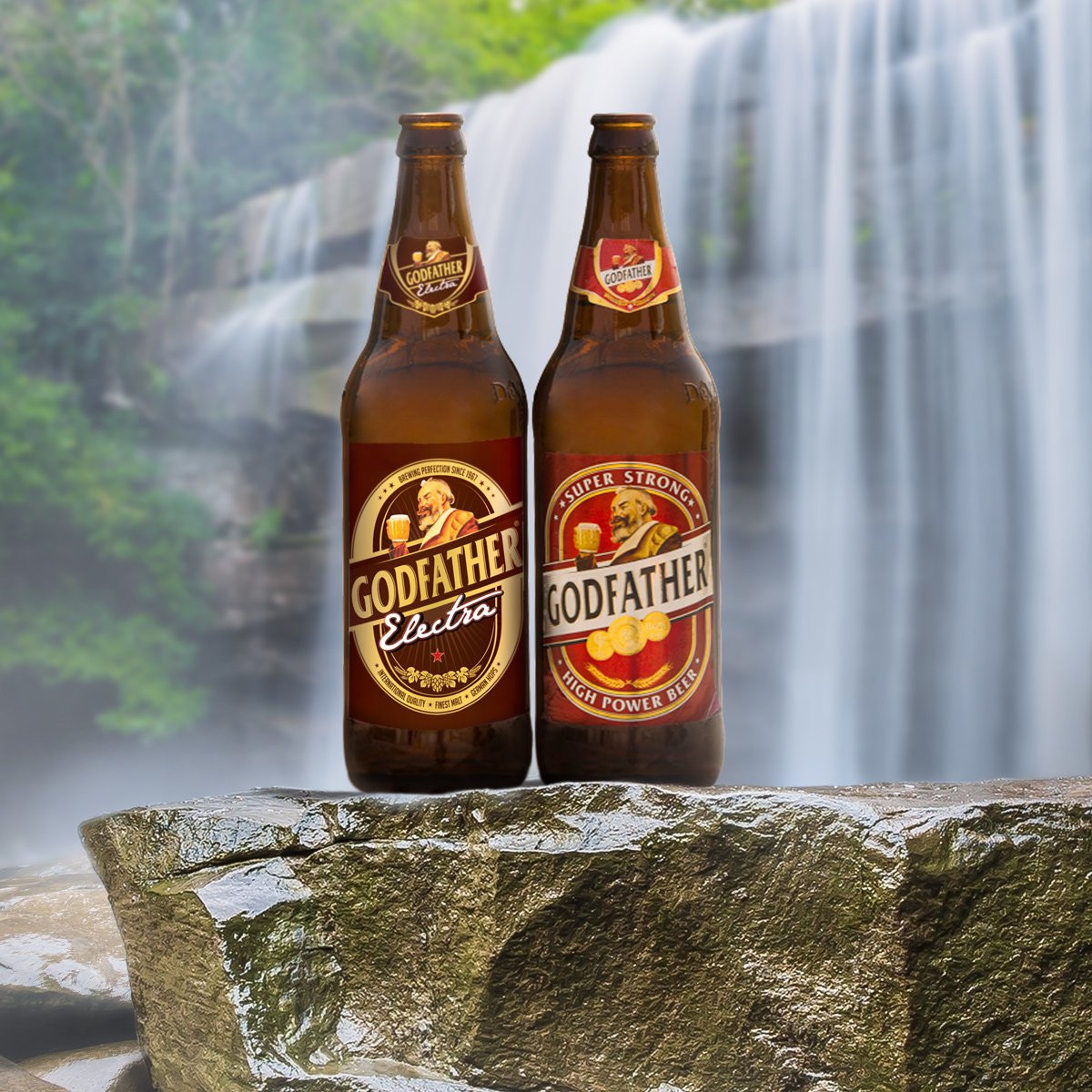 Price:
Godfather Super Strong High Power Beer: INR 100 - 650 ml
Godfather Strong Beer: INR 60 - 330 ml
9. Bira 91
Bira 91 where the number 91 stands for India's country code, is a brand new craft beer that's taking urban India by storm. Introduced in 2015, it's already turned out to be a household call amongst beer fans and is the very best selling premium beer in lots of the capital city bars. The company pursuits to fill the space in the market for a trendy, unorthodox, fun and smart brand of beer. It's positioned between the mainstream Indian beer brands and steeply-priced imported ones. In order to identify and create beers that would suit the Indian palate, the company's founder spent three months travelling across Europe.
Price:
Bira White Beer: INR 180 - 330 ml
10. Breezer
Breezer has made all of us lose our alcohol virginity, did you lose the same way? Bacardi Breezer is essentially a fruit-based alcopop with a varied percentage of alcohol content that differs from country to country. It comes in a massive range of fruit flavours and pioneered the class of flavoured beers which includes: peach, apple, lemon, ruby grapefruit, pineapple, orange, watermelon, cranberry, blackberry, blueberry, pomegranate, lime, raspberry, coconut, mango, and strawberry.
Price:
Breezer: INR 120 - 275 ml
11. Kingfisher Ultra
Kingfisher Ultra is the newest addition to Kingfisher's house. This lager which is present from ages remains preferred by the majority. It has the same old flavour and is relatively cheap as the other ones. The ultra is a smoother, classier edition of the original hit machine and makes for a perfect play.
Price:
Kingfisher Ultra Lager Beer: INR 140 - 650 ml
12. King's
What's Goa without King's, eh? The beautiful beaches of Goa and King's beer go hand in hand. This beer, which unfortunately is only brewed and offered in the state of Goa, is a spotlight of any trip there. Launched in 2015, the King's beer is a very light tasting, pale-coloured beer which is known for its smoky malt aroma. No wonder King's remains a fond memory for many people long after the vacation is over.
Price:
King's Black Label: INR 50 - 375 ml
13. Miller
Another all-American star on our listing, Miller is a classic lager that is best recognized for its clear bottle and a crisp smooth flavour. Excellent shade, average price, but one will find it tough to hold drinking this beer throughout the night by the campfire without having the temptation of switching to a different one if available. Sip this during a Netflix marathon and pair it with buttery popcorn and cheesy nachos.
Price:
Miller High Life Tin: INR 115 - 500 ml
14. Knock Out
Doesn't the name say it all? The beer that aims to rejoice, strong men who show a strong character, this much-loved desi beer has a whopping 8% alcohol content and is terrific with an extra-large portion of your favourite biryani. Released in 1984, Knock Out beer is particularly popular in the states of Telangana, Karnataka, and Maharashtra. The brand's purpose is to 'celebrate strong men who display a strong character'. This malt beer has a powerful taste and aroma.
Price:
Knock Out Refreshing Strong Beer: INR 120 - 650 ml
15. Kalyani
Appropriately fitting into the category of the best budget-friendly beer brands in India, Kalyani is the true South Indian legend. This strong lager is described as a smooth mellowed brew with an extra bite. Its alcohol content is a generous 7.8% and it has a surprisingly sweet aftertaste. If you like a beer with plenty of flavours, blindly go for Kalyani. It is one of India's oldest lagers and has iconic status in West Bengal, where it was launched in 1969.
Price:
Kalyani Black Label Strong Beer: INR 100 - 650 ml
16. Guinness
The sole stout on our list, Guinness has a wonderful flavour, hitting those espresso and cocoa notes and serving up sweet, malty love. Swig this beauty with a rich stew, a fine burger or a better relish with some dark chocolate.
Price:
Guinness Beer: INR 200 - 650 ml
17. Tsingtao
This amber-coloured pilsner beer grants a nutty candy taste and a slightly malty flavour. Tsingtao is a pale lager ale brewed in a Tsingtao Brewery, an Anglo-German brewery in Qingdao on the Eastern Coast of China. Extremely refreshing, this Chinese-origin beer pairs nicely with spicy Asian food, and possibly even with your favourite takeout bowl meals.
Price:
Tsingtao Beer: INR 180 - 650 ml
18. Happy
Crisp and summery, Happy by brand Thirsty is a sneaky number that starts on a gentle fruity note, but then raises the pace and ends on a mildly bitter note. A terrific drink, it's great with every kind of finger food, particularly fried fish and chunky potato wedges.
Price:
Happy By Thirsty Beer: INR 170 - 650 ml
19. White Rhino Wit
White Rhino Wit is Belgian-fashioned wheat beer but with a desi twist. It uses Indian rolled wheat and fresh coriander seeds from the Himalayas. Light, aromatic and really refreshing, this homegrown marvel works perfectly with the inherent tang of Mexican and Thai food.
Price:
White Rhino Wit Beer: INR 150 - 330 ml
20. Dare Devil
The only devil on our list of the affordable beer brands in India, Dare Devil is a wheat beer that guarantees complete taste and carbonation but cuts down on the heavy stuff. Fresh off the block, we think you ought to have a guilt-free boozy session by pairing this with a salad or an easy grill.
Price:
Dare Devil Pull-Tab Bottles: INR 120 - 650 ml
21. Simba
Simba beer was set up so that the makers could brew the beer they would like to have - flavorful, authentic and made with high-quality ingredients. This is made in small batches using finely crafted recipes and not formulas. The packaging of this beer is dark and simple yet very attractive.
Price:
Simba: INR 110 - 500 ml
22. Simona
Established in 2017, Thirsty beers aim to bring back origin to the art of beer and brews. Simona is Thirsty Beer's second product which is a premium wheat beer offering with aromas of banana and a clove-like spiciness. It is a favourite in summers and is brewed using pure wheat malts and live yeast.
Price:
Simba: INR 200 - 330 ml
23. Sommerweisse
Erdinger is an iconic German brewery and for their new wheat beer, they have crafted Sommerweisse which is made through a process that brings out the flavour and mildly aromatic bitterness particularly well. This beer is aromatic but still remains true to the traditional style. They have also designed a special glass for this beer so that the hop aromas and delicate flavours can be enjoyed to the fullest.
Price:
Erdinger Sommerweisse: INR 200 - 330 ml
---
Now just don't be shy to tell us that we have literally spoilt you with choices over these affordable beers. Seriously! They are just too many, right? So, the next time you feel like unwinding yourself partying with your gang or getting a round of your favourite beer, make a little more informed decision. Know that there is a beer available for every mood and every occasion, and definitely for every budget. Our curated list of the pocket-friendly best beer brands in India is all you need to get the gluttony going.